Al-Nawatef camp is situated at about 5 km from the village of Dana. The camp is indicated to approximately 2 km of the road of King and in 1km in the South of Qadsiyya. We benefit from a fabulous location at the edge of a wadi.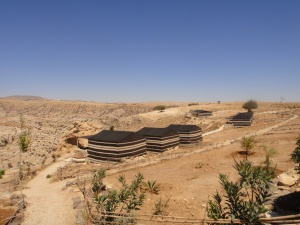 The camp consists of some chalets provided with comfortable beds. And right in front of the wadi, a series of Bedouin tents provided also with beds and with balconies with an exceptional view. There are two shared bathrooms and a nice dining room.
We don't use electricity, so that we preserve the ecological side. The camp offers accommodation facilities of 50 persons, but generally, less than 10 persons find themselves gathered the same day.
We offer you a traditional breakfast, and an excellent dinner is served in the dining room where we meet in a friendly atmosphere.
We organize for you the transfer from the camp towards the village of Dana free of charge. We also propose you hiking  in the valley for few hours or 2-3 days
We can also arrange for you three days walking trip from Dana to Petra.